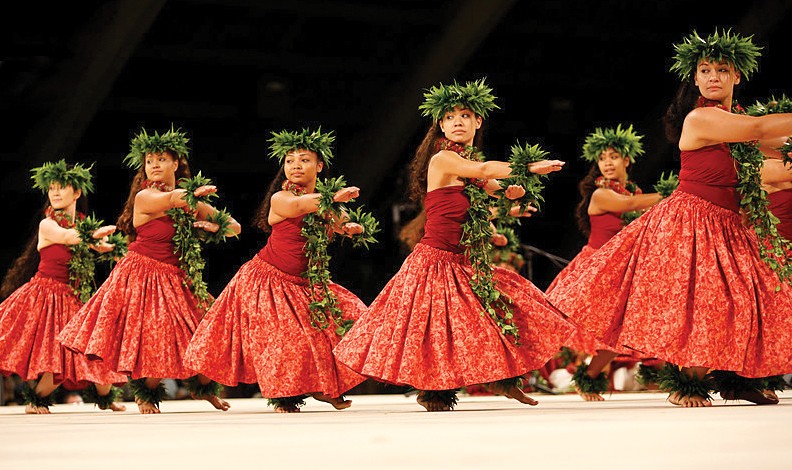 I have never been more happy to mistype something in my life. I was aiming for another fun and visually cool LED hula hoop dance, but I forgot to add the "hoop". So naturally, I descended down a rabbit hole of hula dancing instead. All I can say is wow. I've seen hula dancing in the past, and I know about Hawaiian culture in general. But only in the most basic and vague sense, and even then that might be generous. So when I came across this Kahiko performance by Halau Hula O Hokulani at the Merrie Monarch Festival, I knew it wasn't enough to just watch and enjoy. I had to learn more.
Several hours and dozens of videos later, I now know that the Merrie Monarch Festival is held in Hawaii every year during the week after Easter. It's held in honour of King David Kalākaua, often known as the Merrie Monarch. He was the last King of the Kingdom of Hawaii, and is largely credited with restoring traditional Hawaiian arts and culture after years of suppression by colonial powers. Hula dancing in particular had been banned, but enjoyed a resurgence during the reign of King Kalākaua. The Merrie Monarch Festival began in 1963, and today, it's considered the most prestigious hula festival in the world.
If you watch the video, you'll notice a lot of other names in the title and notes section. Once again, I had to research what they all meant. As far as I can tell, Halau Hula O Hokulani is the name of a Hawaiian Cultural Center and dance school is Kapolei. They don't seem to have a website, but I think it's safe to assume that that's where this group is from. Kahiko is the most ancient form of traditional hula, performed by groups of men (Kāne division) or women (Wahine division). Each Kahiko is dedicated to someone, and each performance is considered sacred.
The woman singing and chanting is called the Kumu Hula. Kumu Hulas traditionally took on the role of priests in Hawaiian society, and were responsible for the oral histories of their people. Today, Kumu Hulas are no longer priests, but they are highly revered in Hawaii. It is the Kumu Hula who creates and choreographs each Kahiko Hula and teaches it to the dancers. The Kumu Hula in this video is Hokulani DeRego, and the Mele (song) is called Maika'i Ke Anu O Waimea.
I feel it should go without saying that I absolutely loved this video. I also loved the couple other dozen I watched after it. There is a power and beauty in them that is extraordinary. Hundreds, if not thousands of years of history and culture are contained within them, and it is deeply moving to watch. And that is coming from someone who has only scratched the surface of learning about and understanding this culture. I can only imagine how I would feel watching this if it was my own culture. But it's not, and I'm just grateful for the opportunity to watch and learn.
One last note. The photo above is not from the performance in the video. I wasn't able to find a good image from that particular video, but the photo above is from the Merrie Monarch Festival.
One last last note. King David Kalākaua was apparently called the Merrie Monarch because of his jovial and happy disposition. I can't overstate how much I love this fact.
---
Suggestions for artists I should check out? Please contact me with your ideas. I hope you enjoyed your daily helping of art!
---