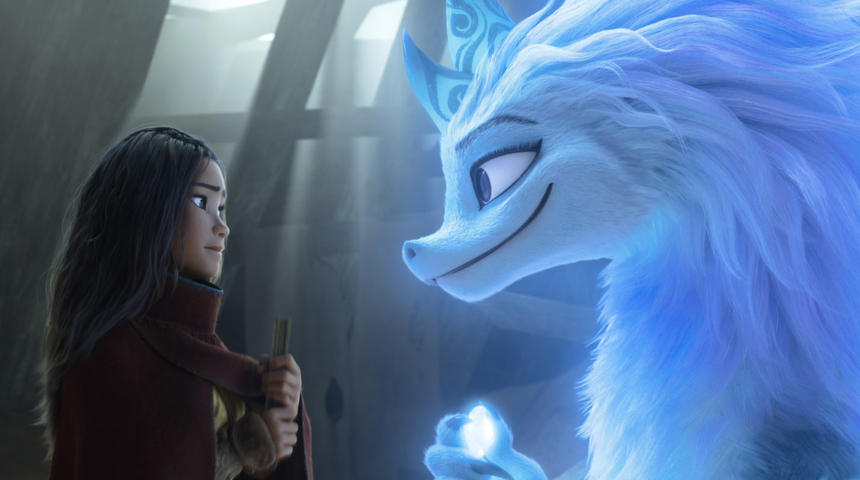 I finally got to see this movie! Unfortunately, Disney skipped theatres and released Raya and the Last Dragon directly onto Disney+ in France. I say unfortunately, because this is easily the most beautiful animated film I have ever seen. I lost count of how many times I wished I was watching it on a big screen instead of on my computer. But even still, the beauty of this film is astonishing. Animation technology these days is simply extraordinary.
But it wasn't just the visuals that I adored. Raya and the Last Dragon is a beautiful story about family, friendship, and trust. And it stars a woman who is justifiably angry, and who is actually able to express that anger in a way that is both revelatory and cathartic. This is not your average Disney princess, and for once, there's not a prince in sight. Just an incredibly determined, brave, and competent woman trying to literally save the world.
The voice cast is stellar, as usual, but Awkwafina as Sisu, the titular last dragon, is a standout. I actually had a rec come in for Awkwafina for the Daily Hart, but sadly, due to my rule about only featuring new artists, she didn't qualify, as I am very familiar with her work. So I will just have to say it here. Awkwafina is amazing in everything she does, and this film is no exception. She's hilarious, earnest, vulnerable, and heartwarming, and makes Sisu easily one of the most interesting characters in the movie. Something tells me I'll be rewatching this film sooner rather than later.
---
Suggestions for artists I should check out? Please contact me with your ideas. I hope you enjoyed your daily helping of art!
---