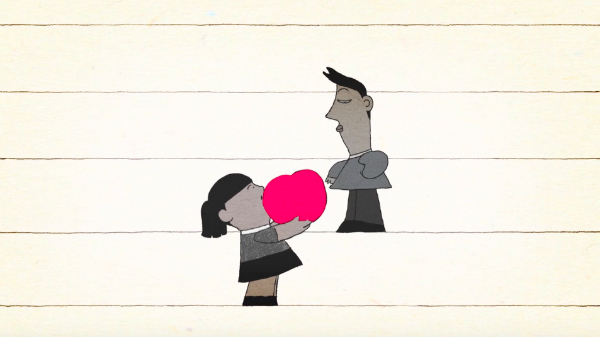 It's a miracle! I finally found an animated short film that didn't make me cry. It made me laugh and smile, and it certainly made me think, but not a single tear was shed. This was probably because I was too busy taking in all the visuals that are happening in this film. I Think I Love You is an exploration of all the many ways that love can manifest itself, both the good and the bad. And not just romantic love. Love in all its forms and expressions.
What's interesting about this film is that filmmaker Xiya Lan decided to go completely dialogue-free while exploring these relationships. Instead, she uses a wonderful array of images, as well as a brilliant score/soundscape to convey the many different ways that love can both bring people together and drive them apart. How love can inspire wonderful acts of selflessness, but can also warp our images of each other. It's a lot to pack into just seven minutes, but Lan pulls it off brilliantly. And it didn't make me cry, so point for Team I Think I Love You.
---
Suggestions for artists I should check out? Please contact me with your ideas. I hope you enjoyed your daily helping of art!
---