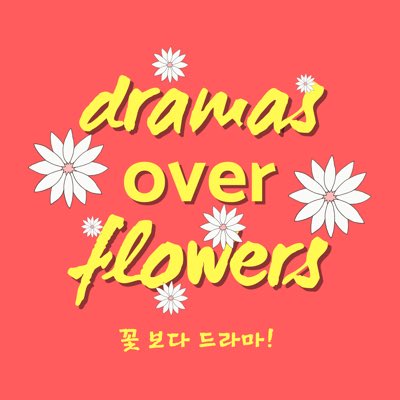 It is because of the Daily Hart that I have discovered the wonderful world of K-dramas, or Korean television dramas. A recommendation came my way to watch Descendants of the Sun, and within two episodes I was hooked. I loved how well this show blended an action packed plot with deep emotional character arcs. I loved that the story was fully contained within 16 episodes and wasn't going to drag on for endless seasons. And I still maintain that this show has the best declaration of love ever uttered by a character on television. Ever. Since finishing that show, I've started watching more K-dramas. But I've also set out to learn more about them as a genre and their cultural context. Hence today's helping, the podcast Dramas Over Flowers.
I feel like at this point this shouldn't be a surprise for regular readers of the Daily Hart. How many times have I written about wanting to know more about an artist, artistic medium, or genre of art? How many times have I said that I just want to know more about the context in which a piece of art was created? Constantly, is the answer to both of those questions, and I truly do mean it every time. I love listening to smart people talk about the art they love, and Dramas Over Flowers is exactly that. Three women talking about their love for (and frustrations with) K-dramas.
Full disclosure. I have not listened to their entire back catalogue just yet. There are almost 100 episodes to catch up on, and at some point I do need to get work done. Silly bills to pay and all that. But I have already burned through about a dozen episodes, and I absolutely love this podcast so far. Hosts Saya, Anisa, and Paroma are smart, insightful, and wonderfully funny, and I love listening to their analyses and discussions. I also very much appreciate the fact that they all come from different backgrounds and cultures. I've been making a conscious effort these past couple of years to learn about new subjects through lens that are different from mine, because you learn so much more that way. Not just about the subject at hand, but the world at large.
I don't see myself stopping watching K-dramas any time soon. They are fun, wonderfully addictive, and emotionally rich. And I can't say it enough. They are a self contained story told within a limited number of episodes. At this point, I don't see myself going back to western television with their endless seasons in the near future. And thanks to Dramas Over Flowers, I have nearly 100 episodes of recommendations for what to watch, as well as informative discussions to better understand what I'm watching. Bliss.
---
Suggestions for artists I should check out? Please contact me with your ideas. I hope you enjoyed your daily helping of art!
---